Brain Clock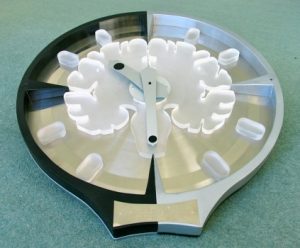 For reception of Cambridge University's Centre For Brain Repair.
The Brain Clock features a Cross-Section of the Human Brain, crafted from 15mm thick translucent acrylic, and mounted on a Polished Stainless Steel Fascia.
It has a Heavy Duty Quartz Movement, with a 9 inch Long Minute Hand.
The clock is 22 inches in diameter and 2 inches deep. It bears an inscription at the six position saying: The Human Brain as a Clock – Made by The House of Rayne: 2006 – http://www.thehouseofrayne.co.uk – 01273 302826.
Professor James Fawcett and his researchers commissioned the clock, funding it with the proceeds from House of Rayne's 2005 and 2006 Summer Exhibition Parties (value of clock: £850).
It was presented and installed at Cambridge on 11 May 2007
Grecian Style Cross for The Church of St. Margaret, Rottingdean, East Sussex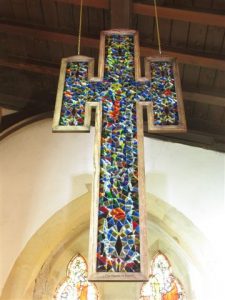 Multi-coloured Glass Collage.
This handcrafted Oak Framed Cross, contains between 1750 and 2000 multi-coloured pieces of stained glass, mounted on silver to reflect maximum room light thus offering maximum brilliance of colour.
It is suspended from the roof timbers inside The Church of St. Margaret, Rottingdean (installed on Dec. 20 2006).
One can visualise the Christ Figure within the design, which also depicts blood from his wounds at side, feet and hands.
The Cross is 5ft 9inches long and 2ft 5inches wide, by 1 inch deep.
It weighs 40 pounds.
The Cross was privately commissioned by Elma Miller, congregant of St. Margaret's, who has been a frequent visitor to the House of Rayne's Summer Exhibitions.
Stonehenge 2000 – Neolithic Time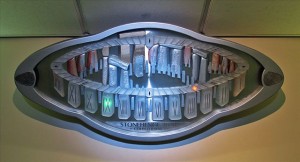 The wall mounted sculpture recreates the most ancient relics of the Stonehenge monument, showing the stones as they would probably have looked when first built.
An Arc of twelve 'Sarcen' stones in acrylic, light individually, to indicate the 'hour', and an 'Oval' of acrylic 'lintel' stones divided into sixty, indicate the minute.
The inner rings and the 'Alter' stone are cut from 'Spotted Dolerite' from the Presilli Hills of Wales. (The same location from which the actual monument's stone was obtained)
The clock's circuitry is based upon 4.193mhz crystal, subdivided into minutes and hours.
The 72 LEDs are driven from serial shaft registers; – 'CMOS' logic is used.
The clock can receive signals from the BT transmitter at Rugby, for seasonal hour change and accurate timekeeping, permanently.
Dimensions: 48″x22′ wall-mounted
More Commissions
Akash Indian Restaurant Clock 18"h Commission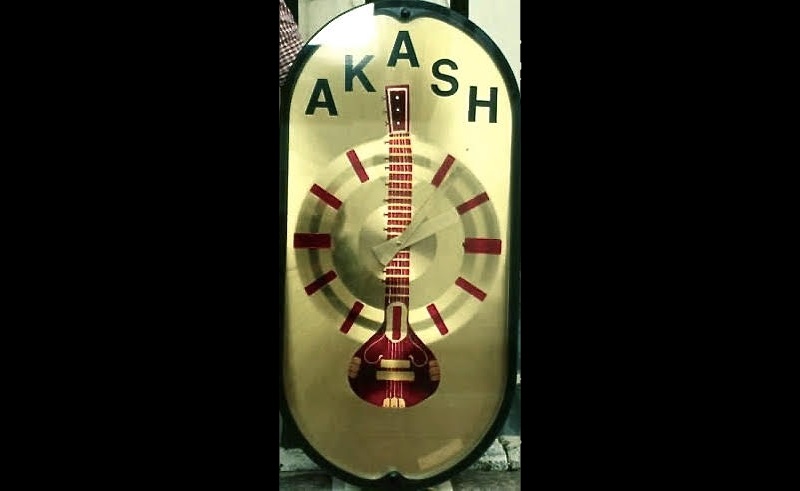 Casalingo Italian Restaurant Clock Commission 16" x 16"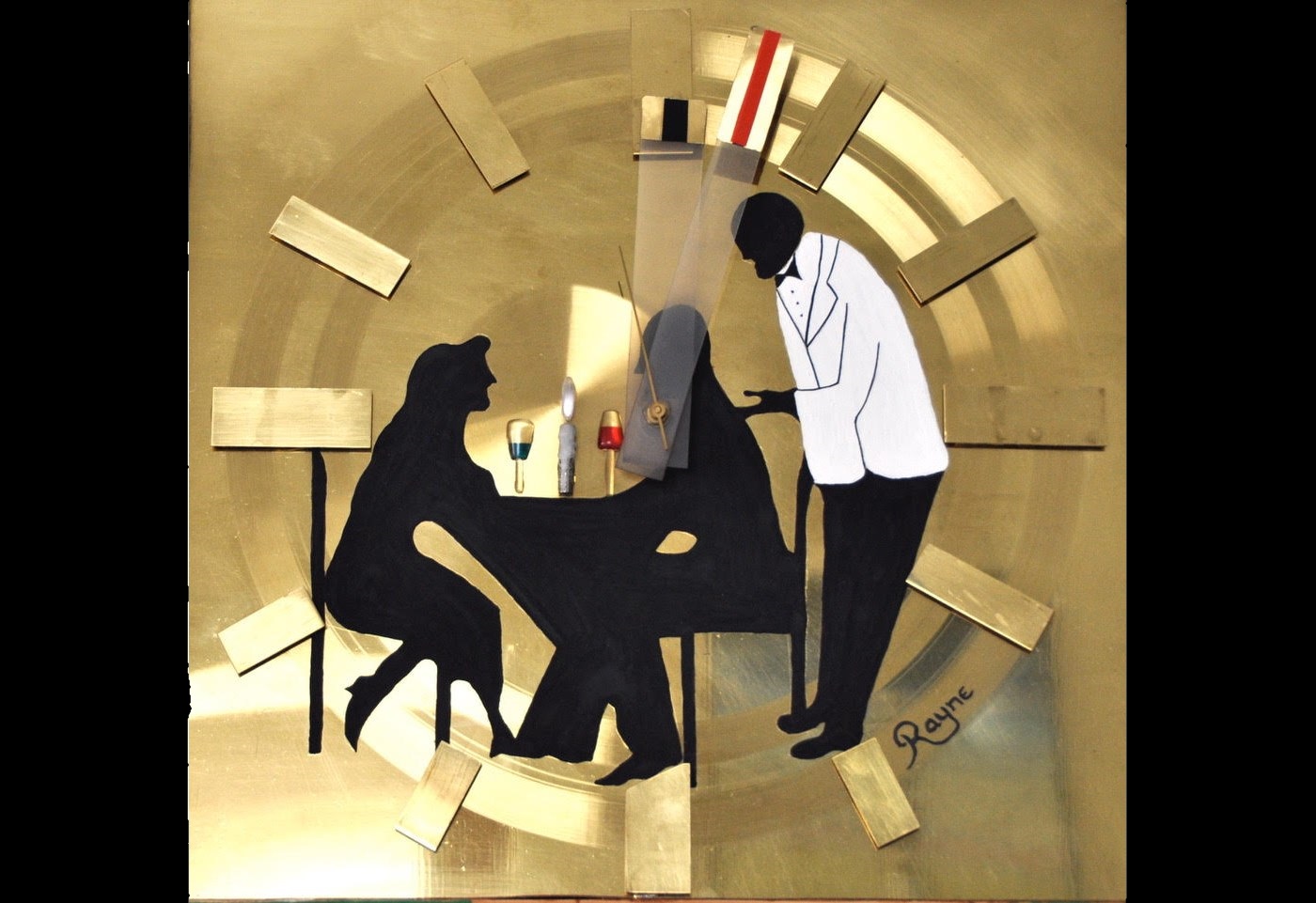 Bells Whiskey Clock private commission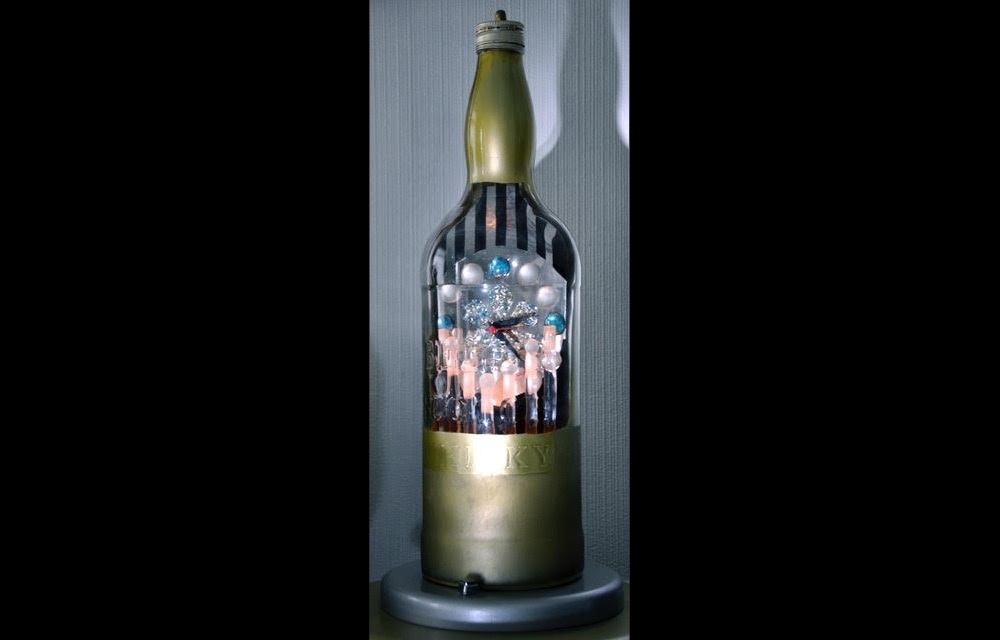 Perrier Bottle Clock 12" Commissioned by Aquatic Ltd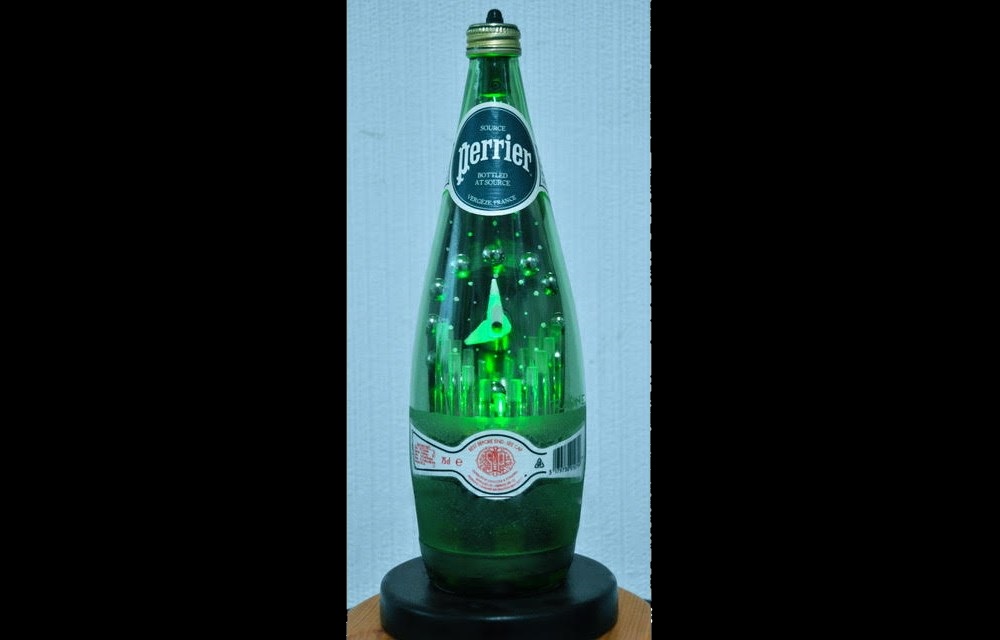 Telecom Tower Clock 1": 30' Post Commissioned by Post Office Telecommunications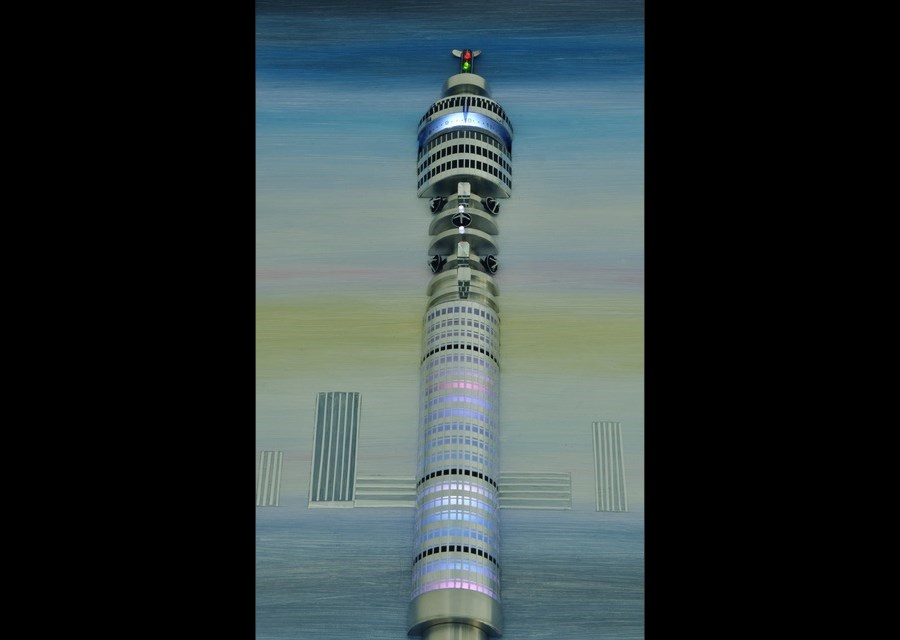 Global Clock 60" x 48" Commission for mobile phone shop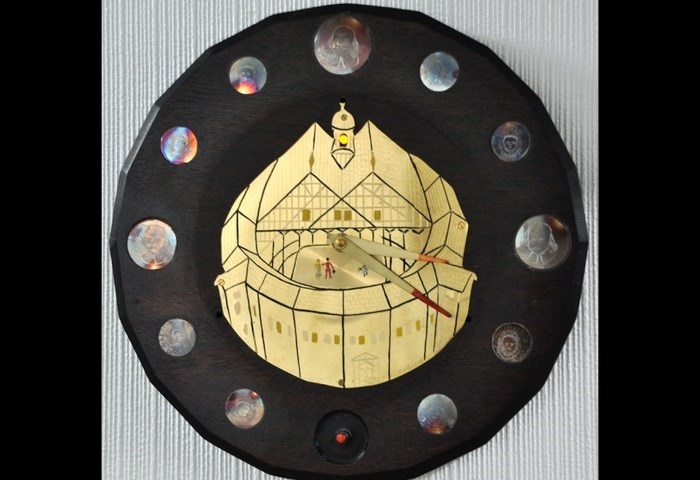 Jaws Swimming Pool Clock Commission for Rottingdean Place