The House of Rayne, established in 2000 and named after it's founder, artist Colin Rayne, is located very close to the beautiful South Downs of East Sussex (6 miles east of Brighton, 1 hour by train from London Victoria).

Biography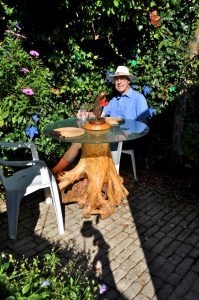 Colin Rayne experienced feelings of creativity and insight, extremely early on at prep school, winning a prize for art. At public school he was frequently encouraged to copy 'old master' paintings. After school, Rayne served an apprenticeship in his father's dental equipment manufacturing company, Norman Rayne Ltd; which had recently merged with E.F. Moy Ltd – Cinematograph Engineers.This precision engineering experience gave him the skills later to be utilised in creating Kinetic Art and Horological design.
Rayne recalls standing on a soap box aged five, to operate a simple 'Capstan Lathe'. Hence, 'a seemingly unusual alliance' of the arts and sciences, forms the basis of Rayne's prolific and uniquely creative and prolific artistic life.
Early exhibitions in London, resulted in sufficient success to continue to motivate Rayne with drive and determination.
In 1983 Rayne moved from London to Brighton, a move which has greatly enhanced his life and work. He converted a property in Saltdean in 2000, to a Private Gallery where guests visit to see a permanent show of aprox 100 artefacts, created over the last 25 years or so. The addition of a studio, has made the property an ideal place for all aspects of exhibiting working and living. – Being only a short distance from the South Downs, – good healthy walks, and inspiration go 'hand in hand'
Rayne is a sociable man, and enjoys interacting with others, resulting in stimulating thought, ideas and inspiration. He has a single virtue in common with Donald Trump: both are 'teetotallers'!
He has produced a Travelogue Video of a rail tour through Europe called: A Tale of Two Cities: Geneva & Milan – click to view on Youtube.
To make an appointment to visit the gallery or for further information on any of his work, please call: 01273-302826
Career Highlights
Colin Rayne's remarkable versatility has resulted in the gain of some notable commissions:
Early on in the mid 1960's when Harold Wilson was premiere, London's Post Office Tower was erected close to Norman Rayne Ltd where Colin was studying design drawing.
Colin created an Illuminated Scale Model (1″:30′) of the building with rotating restaurant for the advertising department of P.O. Telecommunications. The resulting publicity, which included a live six minute interview on BBC TV, greatly encouraged him to work independently.
Colin was elected a Member of The British Horological Institute in 1983 and was invited to display two pieces of work in London's Goldsmiths Hall in 1987.