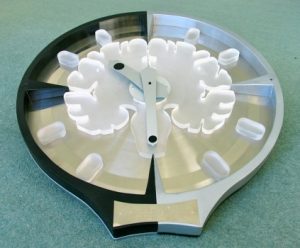 Brain Clock – click for photo gallery
For reception of Cambridge University's Centre For Brain Repair.
The Brain Clock features a Cross-Section of the Human Brain, crafted from 15mm thick translucent acrylic, and mounted on a Polished Stainless Steel Fascia.
It has a Heavy Duty Quartz Movement, with a 9 inch Long Minute Hand.
The clock is 22 inches in diameter and 2 inches deep. It bears an inscription at the six position saying: The Human Brain as a Clock – Made by The House of Rayne: 2006 – http://www.thehouseofrayne.co.uk – 01273 302826.
Professor James Fawcett and his researchers commissioned the clock, funding it with the proceeds from House of Rayne's 2005 and 2006 Summer Exhibition Parties (value of clock: £850).
It was presented and installed at Cambridge on 11 May 2007