The House of Rayne, established in 2000 and named after it's founder, artist Colin Rayne, is located very close to the beautiful South Downs of East Sussex (6 miles east of Brighton, 1 hour by train from London Victoria).

Biography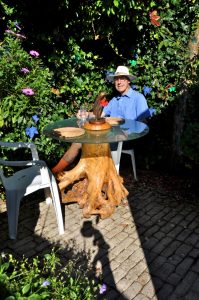 Second child, and only son of Norman Rayne, manufacturer of Electro Dental Surgery Equipment, Colin Rayne has pursued creative activity throughout his life; beginning at public school where, for a period, he copied an "old master" each week.
He recalls standing on a soapbox aged 5 and operating a Capstan Lathe in the machine shop of Norman Rayne Ltd. However, art had also taken hold by 1959 when he entered the family business. Colin trained in basic Mechanical and Electrical Engineering and Design Drawing.
From the 1970's he became completely independent and, successfully combining art and science, gave exhibitions of work embodying painting, sculpting and creative horology.
Exhibitions at Selfridges and Harrods resulted in good sales and commissions.
In 1983 Colin moved to the Brighton area and exhibited in the Brighton Festival in 1994.
Colin has demonstrated an unusually high degree of versatility between three distinct disciplines, which has ensured a continuing interest in his work.
To make an appointment to visit the gallery or for further information on any of his work, please call: 01273-302826
Career Highlights
Colin Rayne's remarkable versatility has resulted in the gain of some notable commissions:
Early on in the mid 1960's when Harold Wilson was premiere, London's Post Office Tower was erected close to Norman Rayne Ltd where Colin was studying design drawing.
Colin created an Illuminated Scale Model (1″:30′) of the building with rotating restaurant for the advertising department of P.O. Telecommunications. The resulting publicity, which included a live six minute interview on BBC TV, greatly encouraged him to work independently.
Colin was elected a Member of The British Horological Institute in 1983 and was invited to display two pieces of work in London's Goldsmiths Hall in 1987.